&gt&gt&gt go green with we take pride in our painting &lt&lt&lt fully insured lead paint cert great reviews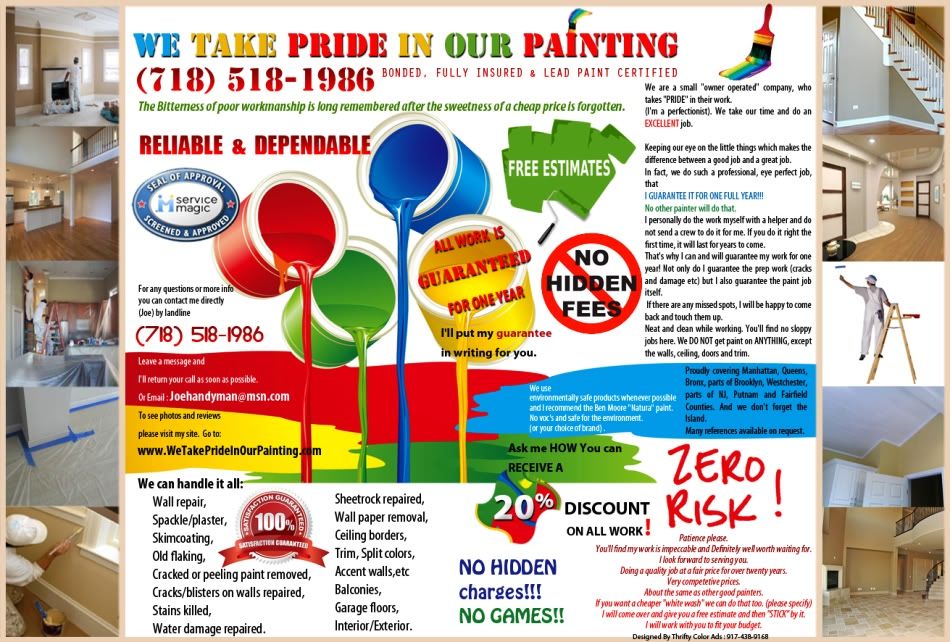 LIKE me on facebook.com/wetakeprideinourpainting
Small "owner operated" company. who takes "PRIDE" in their work.
(I'm a perfectionist)
We take our time and do an EXCELLENT job. Keeping our eye on the little things which makes the difference between a good job and a great job. In fact. we do such a professional. eye perfect job. that I GUARANTEE IT FOR ONE FULL YEAR!!! I'll even put it in writing! No other painter will do that.
I personally do the work myself with a helper. the old fashioned way and do not send a crew to do it for me. Assuring you of outstanding results. If you do it right the first time. it will last for years to come.
That's why I can and will guarantee my work for one year! Not only do I guarantee the prep work. (cracks. damage etc.) but also the paint job itself. If there are any spots missed or crooked lines. I will be happy to come back and touch them up. Doing a quality job at a fair price for over twenty seven years. Very competitive prices. About the same as other good painters. If you want a cheaper "white wash" we can do that too. (please specify)
NO HIDDEN charges!! NO GAMES!!
I will come over and give you a free estimate and then "STICK" by it. I will work with you to fit your budget.
We can handle it all. Wall repair. spackle/plaster. skim coating. old flaking. cracked or peeling paint removed. cracks/blisters on walls repaired. stains killed. water damage repaired. Sheetrock repaired. wall paper removal. ceiling borders. trim. split colors. accent walls etc. Premium Benjamin Moore paint used. (or your choice of brand) Neat and clean while working. You'll find no sloppy jobs here.
We DO NOT get paint on ANYTHING. except the walls. ceiling. doors and trim.
RELIABLE AND DEPENDABLE.
Bonded. FULLY INSURED and LEAD PAINT CERTIFIED.
We use environmentally safe products whenever possible and I recommend the Ben Moore "Natura" and super spec paints.
No voc's and safe for the environment.
Many references available on request.
To see testimonials and photos of our work. please visit my site at:
http://www.wetakeprideinourpainting.com
Then. look me up on yelp. ( We take Pride in our painting) Lots of reviews to peruse on yelp.com
Lots of reviews on Angie's list too. Look me up there. ( Don't need to be a member anymore to see them.)
If you need help with colors. I have both Benjamin Moore color sample books.
They have every color they make. I will help go over color schemes with you.
Covering Manhattan. Queens. Bronx. Westchester. Fairfield. Putnam Counties. And we don't forget the Island.
AS STATED. ALL WORK IS GUARANTEED FOR A FULL YEAR.
WE STAND BEHIND OUR WORK!
ASK ME HOW TO RECEIVE A 20% DISCOUNT ON ALL WORK!
For any questions or info you can contact me (Joe)
Please email:
[email protected]
Or by landline
Leave a message and I'll return your call as soon as possible.
Patience please.
You'll find my work is impeccable and Definitely well worth waiting for.
I look forward to serving you.
PAINTER :
PAINTING :
PAINT :
Low Cost Painter. Cheap Painter. Affordable Painter. Reliable Painter :
Low Cost Paint. Cheap Paint. Affordable Paint. Reliable Paint :
Low Cost Painting. Cheap Painting. Affordable Painting. Reliable Painting :
Phone: Click to View
Location: Manhattan
Provider ID: #90
Latest Activity: Feb 19, 2017